Under The Welcome To Fabulous Las Vegas Sign
Before you hit the slots, brave the buffets, or snap of pic of your #hotdoglegs by the pool, pay a visit to Sin City's most iconic sign. Smile — you have arrived!
Among The European Landmarks At The Paris Las Vegas
Where in the world are you? Leave your followers guessing with selfies near the Las Vegas version of the Eiffel Tower, the Arc de Triomphe, and more. While you're at it, don't forget to take your best shot…
Riding A Gondola At The Venetian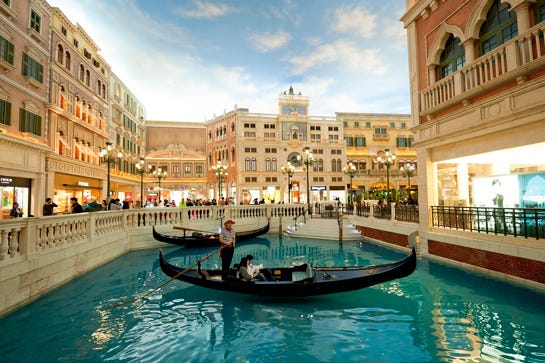 When you're there looking fly,
in a boat with some guy,
that's a selfie!
The Water Show At The Fountains Of Bellagio
Here's a chance to flex your filter skills. Take a jumping shot or 20, blow a kiss, or make a video to capture the spectacular musical waterscape in action. The show runs every 15 minutes from 8 p.m. to midnight.
#Winning — Or Trying To — At The Casinos
Hey, Big Spender! Don't forget to take a selfie at the slot machine or blackjack table between games. Bonus points if you 'gram a jackpot or make it rain in a follow-up shot.
An Elvis Impersonator
Elvis has left the building, but you can't until you get a picture with one of his many doppelgängers. Don't let Uncle Jesse down!
Ready for your close-up in Vegas, baby, Vegas? Enter to win now!